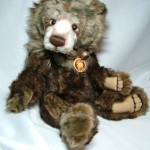 Launched in May, 2010,  Graeme is a large bear designed by Isabelle Lee.
Graeme "The Grizzly Bear" stands at 21″(51cms) making him one of the
larger members of the Charlie Bear family.
Graeme's is made from variegated brown fur, he has a shaved white muzzle
finished with a hand stitched golden brown nose and brown eyes. Graeme's
sculpted paws are made from cream suedette and he sports a large brown suedette dog collar with five large
bells.
An impressive bear, Graeme is fully jointed and comes with his own calico bag overprinted with the Charlie Bear logo.