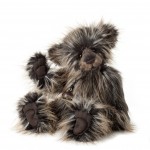 Charlie 2013 stands at 50cms making her one of the larger bears in the Charlie Bears Collection.
Charlie 2013 is a fully jointed, hand stitched Plumo bear. Charlie 2013 is made from long crinkled chocolate fur, tipped with cream and chestnut. Charlie 2013 has black eyes, a hand stitched brown nose on her mohair muzzle. She has hand stitched, sculpted chocolate paws and she wears a cord necklace with a large bell.
Charlie 2013 comes with her own bag overprinted with the Charlie Bear logo.